My Blog
Posts for tag: root canal treatment
By Dr. Edward Portnoy and Dr. Grace D'oria
October 05, 2019
Root canal treatments have suffered a bad rap over the years—and undeservedly. While we applaud root canal therapy for the millions of decayed teeth the procedure has saved, the worn-out cliché that it's painful still lingers on.
So, let's set the record straight: a root canal treatment doesn't cause pain, it most often relieves it. Let's look a little closer at what actually happens before, during and after this tooth-saving treatment.
Before: a tooth in crisis. Tooth decay can damage more than a tooth's outer enamel. This aggressive bacterial infection can work its way into a tooth's interior, destroying the nerves and blood vessels in the pulp, before moving on to the roots and supporting bone through the root canals. Untreated, this devastating process can lead to tooth loss. A root canal treatment, however, can stop the invading decay and save the tooth.
During: stopping the disease. The dentist first numbs the tooth and surrounding gum tissues with local anesthetic—the only thing you might normally feel during treatment is a slight pressure. They then drill into the tooth to access the inner pulp and root canals and remove all diseased tissue. Once the interior spaces of the tooth have been disinfected, the dentist then fills the empty pulp chamber and root canals with a pliable filling called gutta percha to prevent future infection.
After: preventing re-infection. With the filling complete, the dentist then seals the access hole. There may be some minor soreness for a few days, similar to the aftermath of a routine filling, which can usually be managed with over-the-counter pain relievers like ibuprofen. Sometime later, the dentist will normally finish the treatment with a new crown on the tooth. This accomplishes two things: It helps strengthen the tooth against stress fracturing and it provides another layer of protection against future decay.
Root canal treatments have an exceptional track record for giving diseased teeth a second chance. There's nothing to fear—and everything to gain for your troubled tooth.
If you would like more information on root canal treatment, please contact us or schedule an appointment for a consultation. You can also learn more about this topic by reading the Dear Doctor magazine article "Root Canal Treatment: What You Need to Know."
By Dr. Edward Portnoy and Dr. Grace D'oria
March 19, 2019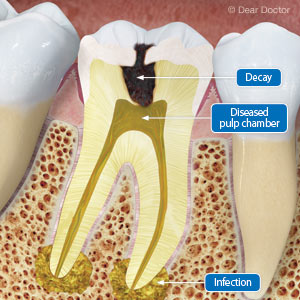 A root canal treatment is a common procedure performed by dentists and endodontists (specialists for inner tooth problems). If you're about to undergo this tooth-saving procedure, here's what you need to know.
The goal of a root canal treatment is to stop tooth decay within a tooth's interior and minimize any damage to the tooth and underlying bone. This is done by accessing the tooth's pulp and root canals (tiny passageways traveling through the tooth roots to the bone) by drilling into the biting surface of a back tooth or the "tongue" side of a front tooth.
First, though, we numb the tooth and surrounding area with local anesthesia so you won't feel any pain during the procedure.  We'll also place a small sheet of vinyl or rubber called a dental dam that isolates the affected tooth from other teeth to minimize the spread of infection.
After gaining access inside the tooth we use special instruments to remove all of the diseased tissue, often with the help of a dental microscope to view the interior of tiny root canals. Once the pulp and root canals have been cleared, we'll flush the empty spaces with an antibacterial solution.
After any required reshaping, we'll fill the pulp chamber and root canals with a special filling called gutta-percha. This rubberlike, biocompatible substance conforms easily to the shape of these inner tooth structures. The filling preserves the tooth from future infection, with the added protection of adhesive cement to seal it in.
Afterward, you may have a few days of soreness that's often manageable with mild pain relievers. You'll return for a follow-up visit and possibly a more permanent filling for the access hole. It's also likely you'll receive a permanent crown for the tooth to restore it and further protect it from future fracture.
Without this vital treatment, you could very well lose your tooth to the ravages of decay. The time and any minor discomfort you may experience are well worth the outcome.
If you would like more information on treating tooth decay, please contact us or schedule an appointment for a consultation. You can also learn more about this topic by reading the Dear Doctor magazine article "Root Canal Treatment: What You Need to Know."
By Dr. Edward Portnoy and Dr. Grace D'oria
August 06, 2017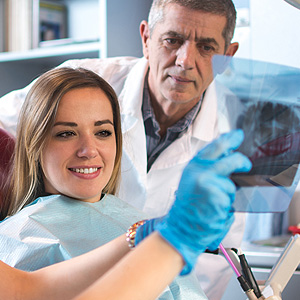 You've recently learned one of your teeth needs a root canal treatment. It's absolutely necessary: for example, if you have decay present, it will continue to go deeper within the tooth and it will spread to the roots and bone and could ultimately cause you to lose your tooth. Although you're a little nervous, we can assure you that if we've recommended a root canal treatment, it's the right step to take for your dental health.
There's nothing mysterious — or ominous — about a root canal. To help ease any fears you may have, here's a step-by-step description of the procedure.
Step 1: Preparing your mouth and tooth. We first take care of one of the biggest misconceptions about root canals: that they're painful. We completely numb the tooth and surrounding tissues with local anesthesia to ensure you will be comfortable during the procedure. We isolate the affected tooth with a thin sheet of rubber or vinyl called a rubber dam to create a sterile environment while we work on the tooth. We then access the inside of the tooth — the pulp and root canals — by drilling a small hole through the biting surface if it's a back tooth or through the rear surface if it's in the front.
Step 2: Cleaning, shaping and filling the tooth. Once we've gained access we'll clear out all of the dead or dying tissue from the pulp and root canals, and then cleanse the empty chamber and canals thoroughly with antiseptic and antibacterial solutions. Once we've cleaned everything out, we'll shape the walls of the tiny root canals to better accommodate a filling material called gutta-percha, which we then use to fill the canals and pulp chamber.
Step 3: Sealing the tooth from re-infection. Once we complete the filling, we'll seal the access hole and temporarily close the tooth with another filling. Later, we'll install a permanent crown that will give the tooth extra protection against another infection, as well as restore the tooth's appearance.
You may experience some mild discomfort for a few days after a root canal, which is usually manageable with aspirin or ibuprofen. In a week or so, you'll hardly notice anything — and the tooth-threatening decay and any toothache it may have caused will be a distant memory.
If you would like more information on root canal treatments, please contact us or schedule an appointment for a consultation. You can also learn more about this topic by reading the Dear Doctor magazine article "A Step-by-Step Guide to Root Canal Treatment."