My Blog
Posts for tag: pediatric dentistry
By Dr. Edward Portnoy and Dr. Grace D'oria
July 17, 2019
Pediatricians and dentists alike recommend beginning your child's regular dental visits at an earlier age rather than later. Most say children's first visits should happen around their first birthday.
Some may question whether that's necessary given the state of a child's dental development at that age. At that stage they normally have only a few primary teeth, which will eventually give way to their permanent set soon enough.
But regular dental visits can make a positive difference even at that early age. Here are 3 oral health areas that could benefit from seeing the dentist by Age One.
Protecting primary teeth from decay. It's true that primary teeth don't last long when compared to a normal lifespan. But during their short tenure, they do play a critical role in a child's health and development. Not only do they provide a child dental function for eating, speaking and smiling, they also preserve the space for the permanent teeth that will succeed them. Without them, permanent teeth can erupt out of position to form a poor bite (or malocclusion). That's why early dental care to prevent and treat decay in primary teeth helps them remain for as long as they should.
Detecting developing malocclusions. A malocclusion doesn't form overnight—there can be subtle signs of its development during early childhood. A dentist, especially a pediatric dentist or orthodontist, can often detect those signs before the malocclusion fully develops (one reason why every child should have an orthodontic evaluation around age 6). With early detection, an orthodontist can use interventional techniques that will lessen or even stop a malocclusion from forming. As a result, later orthodontic treatment may not be as extensive—or expensive—as it could have been.
Developing a healthy dentist-patient relationship. Dental anxiety is a real problem for many adults—in some cases it can be so severe they avoid professional dental care altogether. The roots of that dental fear often go back to unpleasant experiences during childhood. Starting dental visits when a child is very young appears to minimize the development of dental anxiety. A young child, especially visiting a "kid-friendly" dental clinic, will more likely view dental care as a routine part of life and will less likely be afraid.
If you would like more information on dental care for children, please contact us or schedule an appointment for a consultation. You can also learn more about this topic by reading the Dear Doctor magazine article "Age One Dental Visit: Why It's Important for Your Baby."
By Dr. Edward Portnoy and Dr. Grace D'oria
November 29, 2018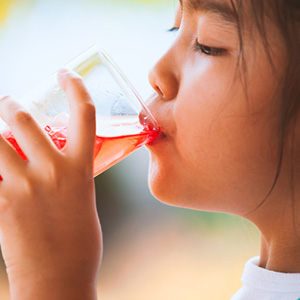 Along with daily brushing and flossing, limiting your child's sugar consumption is an important way to prevent tooth decay. We all know the usual suspects: candy, sugar-added snacks and sodas. But there's one category you may not at first think fits the profile—juices. But even natural juices with no added sugar can raise your child's risk of tooth decay if they're drinking too much.
Tooth decay is caused by certain strains of bacteria in the mouth, which produce acid. Sugar in any form (sucrose, fructose, maltose, etc.) is a primary food source for these bacteria. When there's a ready food source, bacteria consume it and produce abnormally high levels of acid. This can cause the mineral content of tooth enamel to dissolve faster than saliva, which neutralizes acid, can reverse the tide.
Juices without added sugar still contain the natural sugar of the fruit from which they originate. The American Academy of Pediatrics conducted a study of the effect of these natural juice sugars on dental health. Their conclusion: it can have an effect, so the amount of juice consumed daily by a child should be restricted according to age.
They've since published guidelines to that effect:
Under age 1 (or any child with abnormal weight gain): no juice at all;
Ages 1-3: no more than 4 ounces a day;
Ages 4-6: no more than 6 ounces a day;
Ages 7-18: no more than 8 ounces (1 cup) a day.
Again, these are guidelines—you should also discuss the right limits for your individual child with your dentist or pediatrician. And if you're wondering what kind of beverages pose less risk of tooth decay, you can look to low or non-fat milk. And, of course, don't forget water—besides containing no sugar, nature's hydrator has a neutral pH, so it won't increase acidity in the mouth.
Tooth decay is one of the biggest health problems many kids face. But with good teeth-friendly habits, including restricting sugar intake in any of its many forms (including juices) you can go a long way in reducing their risk of this destructive disease.
If you would like more information on best dental care practices for children, please contact us or schedule an appointment for a consultation.
By Dr. Edward Portnoy and Dr. Grace D'oria
May 02, 2018
When your baby's first teeth come in, you might not think it necessary yet to worry about tooth decay. But even infants can develop this common dental disease. In fact, it has a specific name in children 6 and under: early childhood caries (ECC).
About one-fourth of U.S. children have ECC, and poor or minority children are at highest risk. Because of primary ("baby") teeth's thin enamel layer, ECC can spread to healthier teeth with unnerving speed, causing extensive damage.
While such damage immediately affects a child's nutrition, speech development and self-esteem, it could also impact their future oral health. Permanent teeth often erupt out of position because of missing primary teeth lost prematurely, creating a poor bite. And children with ECC are more likely to have cavities in their future permanent teeth.
While there are a number of effective treatments for repairing ECC-caused damage, it's best to try to prevent it before damage occurs. A large part of prevention depends on you. You should, for example, begin oral hygiene even before teeth come in by wiping their gums with a clean, damp cloth after feeding. After teeth appear, switch to daily brushing with just a smear of toothpaste.
Because refined sugar is a primary food source for decay-causing bacteria, you should limit it in their diet. In the same vein, avoid sleep-time bottles with fluids like juices, milk or formula. As they grow older, make sure snacks are also low in sugar.
You should also avoid spreading your own oral bacteria to your baby. In this regard, don't put their eating utensils or pacifier in your mouth and don't drink from the same cup. Avoid kissing your baby on the lips. And above all, take care of your own oral health to prevent your own encounter with dental disease.
Finally, start regular dental visits on or before your baby's first birthday. Regular cleanings and checkups increase the chances for early decay detection, as well as provide for treatments and prevention measures that can reduce the disease's spread and destruction.
ECC can be devastating to both your baby's current and future dental health. But with vigilance and good dental practices, you may be able to help them avoid this serious disease.
If you would like more information on tooth decay prevention in young children, please contact us or schedule an appointment for a consultation.