My Blog
Posts for tag: orthodontic treatment
By Dr. Edward Portnoy and Dr. Grace D'oria
September 05, 2019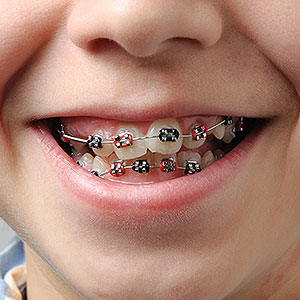 Bite problems aren't limited to teeth simply out of position. The problem could be some teeth aren't there—visibly, that is. They still exist below the gums and bone, but they've been crowded out and blocked from erupting. We call this condition impaction.
Any tooth can become impacted and affect the bite, but a person's smile suffers more if it involves visible front teeth. This is especially so if the teeth in question are upper canines or "eye teeth"—the smile doesn't look normal without these pointed teeth on either side of the central and lateral incisors.
Impacted teeth can also contribute to more than a cosmetic problem: they're more susceptible to abscesses (pockets of infection) or root damage both to themselves or neighboring teeth. To minimize these potential health issues, we'll often remove impacted teeth surgically (as is often done with wisdom teeth).
But because of their important role in not only appearance but also bite function, we may first try to assist impacted canines to fully erupt before considering extraction. It takes a bit of orthodontic "magic," but it can be done.
Before we can make that decision, though, we want to precisely locate the impacted teeth's positions and how it may affect other teeth. This initial evaluation, often with advanced diagnostics like CT scanning or digital x-rays, helps us determine if the impacted teeth are in a workable position to save. If they're not, we may then need to consider removing them and ultimately replacing them with a dental implant or similar restoration.
But if their position is workable and there are no other impediments, we can proceed with helping them erupt. To do this we'll have to first expose them by creating a small opening in the gums through minor surgery. We then bond a small bracket to the tooth, to which we'll attach a small chain that we then attach to orthodontic braces. This enables us to exert continuous pressure on the tooth.
Over time, the pressure coaxes the tooth to erupt. We may still need to apply other forms of orthodontics and cosmetic procedures, but using this procedure to rescue impacted canines can produce a healthier and more attractive smile.
If you would like more information on treating complex bite problems, please contact us or schedule an appointment for a consultation. You can also learn more about this topic by reading the Dear Doctor magazine article "Exposing Impacted Canines."
By Dr. Edward Portnoy and Dr. Grace D'oria
February 18, 2018
It's a common sight to see someone wearing braces—and not just teens or pre-teens. In the last few decades, people in their adult years (even late in life) are transforming their smiles through orthodontics.
If you're an adult considering treatment to straighten your teeth, this particular dental specialty might be an unfamiliar world to you. Here are 3 things you may not know about orthodontics.
Orthodontic treatment cooperates with nature. There would be no orthodontics if teeth couldn't move naturally. Teeth are actually held in place by an elastic tissue called the periodontal ligament that lies between the teeth and bone. Small fibers from the ligament tightly attach to the teeth on one side and to the bone on the other. Although it feels like the teeth are rigidly in place, the ligament allows for micro-movements in response to changes in the mouth. One such change is the force applied by orthodontic appliances like braces, which causes the bone to remodel in the direction of the desired position.
Treatment achieves more than an attractive smile. While turning your misaligned teeth into a beautiful, confident smile is an obvious benefit, it isn't the only one. Teeth in proper positions function better during chewing and eating, which can impact digestion and other aspects of health. Misaligned teeth are also more difficult to keep clean of bacterial plaque, so straightening them could help reduce your risk of tooth decay or periodontal (gum) disease.
Possible complications can be overcome. Some problems can develop while wearing braces. Too much applied force could lead to the roots dissolving (root resorption), which could make a tooth shorter and endanger its viability. Braces can also contribute to a loss of calcium in small areas of tooth enamel, which can make the teeth more vulnerable to oral acid attack. However, both these scenarios can be anticipated: the orthodontist will watch for and monitor signs of root resorption and adjust the tension on the braces accordingly; and diligent oral hygiene plus regular dental cleanings will help prevent damage to the tooth enamel.
If you're dreaming of a straighter and healthier smile, see us for a full examination. We'll then be able to discuss with you your options for transforming your smile and your life.
If you would like more information on orthodontic treatment, please contact us or schedule an appointment for a consultation. You can also learn more about this topic by reading the Dear Doctor article "Moving Teeth with Orthodontics."
By Dr. Edward Portnoy and Dr. Grace D'oria
January 04, 2018
In her decades-long career, renowned actress Kathy Bates has won Golden Globes, Emmys, and many other honors. Bates began acting in her twenties, but didn't achieve national recognition until she won the best actress Oscar for Misery — when she was 42 years old! "I was told early on that because of my physique and my look, I'd probably blossom more in my middle age," she recently told Dear Doctor magazine. "[That] has certainly been true." So if there's one lesson we can take from her success, it might be that persistence pays off.
When it comes to her smile, Kathy also recognizes the value of persistence. Now 67, the veteran actress had orthodontic treatment in her 50's to straighten her teeth. Yet she is still conscientious about wearing her retainer. "I wear a retainer every night," she said. "I got lazy about it once, and then it was very difficult to put the retainer back in. So I was aware that the teeth really do move."
Indeed they do. In fact, the ability to move teeth is what makes orthodontic treatment work. By applying consistent and gentle forces, the teeth can be shifted into better positions in the smile. That's called the active stage of orthodontic treatment. Once that stage is over, another begins: the retention stage. The purpose of retention is to keep that straightened smile looking as good as it did when the braces came off. And that's where the retainer comes in.
There are several different kinds of retainers, but all have the same purpose: To hold the teeth in their new positions and keep them from shifting back to where they were. We sometimes say teeth have a "memory" — not literally, but in the sense that if left alone, teeth tend to migrate back to their former locations. And if you've worn orthodontic appliances, like braces or aligners, that means right back where you started before treatment.
By holding the teeth in place, retainers help stabilize them in their new positions. They allow new bone and ligaments to re-form and mature around them, and give the gums time to remodel themselves. This process can take months to years to be complete. But you may not need to wear a retainer all the time: Often, removable retainers are worn 24 hours a day at first; later they are worn only at night. We will let you know what's best in your individual situation.
So take a tip from Kathy Bates, star of the hit TV series American Horror Story, and wear your retainer as instructed. That's the best way to keep your straight new smile from changing back to the way it was — and to keep a bad dream from coming true.
If you would like more information about orthodontic retainers, please contact us or schedule an appointment for a consultation. You can learn more about this topic in the Dear Doctor magazine articles "Why Orthodontic Retainers?" and "The Importance of Orthodontic Retainers." The interview with Kathy Bates appears in the latest issue of Dear Doctor.