My Blog
Posts for tag: oral hygiene
By Dr. Edward Portnoy and Dr. Grace D'oria
September 20, 2018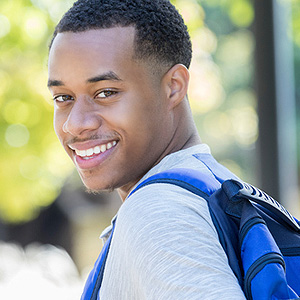 Starting college is one of life's biggest transition moments, the first time many young people can truly say they're on their own. Their freshman year can be both exhilarating and frightening.
The reason for this seeming dichotomy is that both exciting opportunities and harmful pitfalls abound in college life. One such pitfall that's often overlooked involves dental health: it's all too easy to neglect good habits and adopt bad ones. But while it may not seem as harmful as other dangers, inattention to your dental health could create consequences that plague you long after graduation.
But being diligent about dental care can help you avoid serious problems now and in the future. At the top of the list: brush and floss your teeth daily and continue seeing a dentist at least twice a year. Hopefully, your parents or guardians have trained you in these vital habits—and they're definitely habits you should continue for the rest of your life.
Close in importance to good oral hygiene is a healthy diet. Besides eating primarily "natural" food—fresh fruits and vegetables and less-processed foods—you should also set limits on your sugar consumption. This carbohydrate is a primary food for disease-causing bacteria, so limiting as much as possible the sugar you eat to just meal times will lower your risk for tooth decay.
Another area in which you should tread wisely is alcohol consumption. Besides the obvious consequences of alcohol abuse, immoderate drinking can also cause dental problems. Alcohol (and smoking) tends to dry out the mouth, which can increase the levels of oral bacteria and in turn increase your risk of both tooth decay and periodontal (gum) disease.
Finally, avoid getting piercings involving the lips, mouth or tongue even if it's the thing to do. Piercing hardware can chip teeth and contribute to the shrinking back of the gums (recession). And be sure you practice safe sex: unprotected sexual activity could expose you to viral infections that cause oral problems including cancer.
Your college years should be an exciting and memorable experience. By practicing these and other common sense dental habits, you'll be sure to remember these years fondly.
If you would like more information on dental care during college, please contact us or schedule an appointment for a consultation. You can also learn more about this topic by reading the Dear Doctor magazine article "10 Health Tips for College Students."
By Dr. Edward Portnoy and Dr. Grace D'oria
June 22, 2017
When is the best time to floss your teeth: Morning? Bedtime? How about: whenever and wherever the moment feels right?
For Cam Newton, award-winning NFL quarterback for the Carolina Panthers, the answer is clearly the latter. During the third quarter of the 2016 season-opener between his team and the Denver Broncos, TV cameras focused on Newton as he sat on the bench. The 2015 MVP was clearly seen stretching a string of dental floss between his index fingers and taking care of some dental hygiene business… and thereby creating a minor storm on the internet.
Inappropriate? We don't think so. As dentists, we're always happy when someone comes along to remind people how important it is to floss. And when that person has a million-dollar smile like Cam Newton's — so much the better.
Of course, there has been a lot of discussion lately about flossing. News outlets have gleefully reported that there's a lack of hard evidence at present to show that flossing is effective. But we would like to point out that, as the saying goes, "Absence of evidence is not evidence of absence." There are a number of reasons why health care organizations like the American Dental Association (ADA) still firmly recommend daily flossing. Here are a few:
It's well established that when plaque is allowed to build up on teeth, tooth decay and gum disease are bound to follow.
A tooth brush does a good job of cleaning most tooth surfaces, but it can't reach into spaces between teeth.
Cleaning between teeth (interdental cleaning) has been shown to remove plaque and food debris from these hard-to-reach spaces.
Dental floss isn't the only method for interdental cleaning… but it is recognized by dentists as the best way, and is an excellent method for doing this at home — or anywhere else!
Whether you use dental floss or another type of interdental cleaner is up to you. But the ADA stands by its recommendations for maintaining good oral health: Brush twice a day for two minutes with fluoride toothpaste; visit your dentist regularly for professional cleanings and checkups; and clean between teeth once a day with an interdental cleaner like floss. It doesn't matter if you do it in your own home, or on the sidelines of an NFL game… as long as you do it!
If you would like more information about flossing and oral hygiene, contact us or schedule an appointment for a consultation.