My Blog
Posts for tag: mouthguards
By Dr. Edward Portnoy and Dr. Grace D'oria
April 02, 2020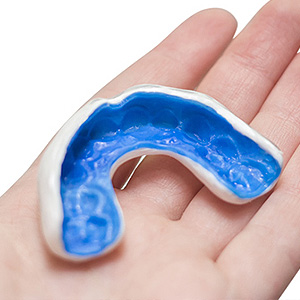 Other than tooth decay, children don't encounter dental disease to the extent adults do. But injuries are another story: More than 5 million teeth are knocked loose each year, and a high percentage involve children. Roughly a third of these and similar children's injuries are sports-related.
April is National Facial Protection Month: Several oral and facial health organizations, including the American Association of Orthodontists, have joined together to raise awareness about the risks of injury to the face and mouth, especially among children. Many of these injuries have long-term consequences with lifetime treatment costs in the thousands of dollars.
But as the name implies, this awareness month is also about protection—what you can do to help your child avoid a costly and devastating dental injury. Top of the list: Have your child wear an athletic mouthguard during all contact sports activities (including practices).
The National Federation of State High School Associations mandates mouthguard wear for football, lacrosse, and ice and field hockey. But those aren't the only sporting activities where a mouthguard should be standard equipment: In fact, basketball has more orofacial injuries each year than any other sport. Generally, mouthguards should be worn for any sports activity that involves potential contact with other players or objects.
There is a variety of mouthguard choices, but most fall into two basic categories, "boil and bite" and custom-made. The former, readily available in retail sports stores, get their name from the procedure employed when first purchased to adjust their fit to an individual player. Out of the package, they should be soaked in hot or boiling water until softened, and then placed in the wearer's mouth to bite down on. After they cool, they'll retain that bite pattern.
Boil and bite guards are relatively inexpensive, but the fit isn't as precise as a mouthguard that is custom-made by a dentist. This can lead to comfort issues—and players are less likely to wear an uncomfortable mouthguard.
Custom mouthguards, on the other hand, have a more accurate fit, allowing them to be thinner and more comfortable. They also provide the highest level of protection against blows to the face and mouth. These are more costly than boil and bite guards, and younger athletes may need a replacement every few years to accommodate jaw growth development. But compared to the physical, emotional and financial cost of a dental injury, custom mouthguards are worth the investment.
A mouth or face injury can happen in an instant and result in damage that can have lingering effects for years. For the best protection, see that your star athlete has and wears a custom mouthguard.
If you would like more information about mouthguard protection, please contact us or schedule a consultation. To learn more, read the Dear Doctor magazine article "Athletic Mouthguards."
By Dr. Edward Portnoy and Dr. Grace D'oria
May 08, 2019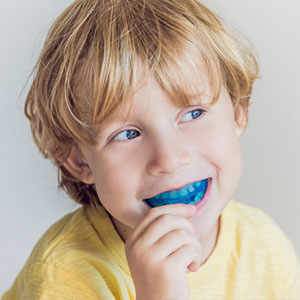 As spring weather heats up, so do a lot of outdoor sports like baseball or soccer. Unfortunately, the chances of sports-related injuries increase as well. Your child's mouth in particular is a prime target for injury—and you need to be prepared.
First and foremost, players should wear a mouthguard during contact sports to reduce their risk of injury. Mouthguards can absorb much of the force generated during impact—and may make the difference between minor bruising and a fractured or knocked-out tooth.
"Boil and bite" mouthguards available from the local pharmacy or sporting goods store are popular because of their cost and availability. These are softened in hot water before the wearer bites down to create a semi-customized fit. An even better option, though, is a custom mouthguard that is made from a precise impression of your child's teeth that we take in our office. This type of mouthguard costs more, but it provides greater protection and comfort than one from your corner store.
A mouthguard can significantly reduce the risk of injury but won't eliminate it entirely. If a dental injury does occur, you need to know what to do. This will depend mainly on the type of injury: If the tooth is chipped but not pushed out of position, you can collect any tooth fragments and see us within 12 hours for an examination and possible repairs. If the tooth has moved or is loose, you should see us even sooner—within 6 hours so we can readjust the tooth and, if needed, splint it until it is securely reattached.
A more serious injury is a tooth that has been knocked completely out of its socket. It can often be saved, but you'll need to act quickly—optimally, within 5 minutes—by reinserting the tooth in its socket. Although it sounds daunting, it's really a matter of a few simple steps: First, find the tooth and rinse off any debris with clean water. Holding it by the crown (the visible part you are used to seeing) insert the root end into the empty socket. If your placement isn't "just right," don't worry; we can adjust it later, but it will require some pressure to place it in the socket. Have the person bite down on a piece of gauze or clean cloth to hold the tooth in place. Call us immediately. If you cannot reach us, go to an emergency room.
Quick action and prompt follow-up dental care after a mouth injury increase the chance of a happy outcome. Along with proper mouthguard protection, remembering these pointers will help ensure that your family has an enjoyable sports season this year!
If you would like more information about sports-related dental injuries, please contact us or schedule an appointment for a consultation. To learn more, read the Dear Doctor magazine articles "Athletic Mouthguards" and "The Field-Side Guide to Dental Injuries."
By Dr. Edward Portnoy and Dr. Grace D'oria
June 01, 2018
When you're among the top players in your field, you need every advantage to help you stay competitive: Not just the best equipment, but anything else that relieves pain and stress, and allows you to play better. For top-seeded Canadian tennis player Milos Raonic, that extra help came in a somewhat unexpected form: a custom made mouthguard that he wears on the court and off. "[It helps] to not grind my teeth while I play," said the 25-year-old up-and-coming ace. "It just causes stress and headaches sometimes."
Mouthguards are often worn by athletes engaged in sports that carry the risk of dental injury — such as basketball, football, hockey, and some two dozen others; wearing one is a great way to keep your teeth from being seriously injured. But Raonic's mouthguard isn't primarily for safety; it's actually designed to help him solve the problem of teeth grinding, or bruxism. This habitual behavior causes him to unconsciously tense up his jaw, potentially leading to problems with muscles and teeth.
Bruxism is a common issue that's often caused or aggravated by stress. You don't have to be a world-class athlete to suffer from this condition: Everyday anxieties can have the same effect. The behavior is often worsened when you consume stimulating substances, such as alcohol, tobacco, caffeine, and other drugs.
While bruxism affects thousands of people, some don't even suspect they have it. That's because it may occur at any time — even while you're asleep! The powerful jaw muscles that clench and grind teeth together can wear down tooth enamel, and damage both natural teeth and dental work. They can even cause loose teeth! What's more, a clenching and grinding habit can result in pain, headaches and muscle soreness… which can really put you off your game.
There are several ways to relieve the problem of bruxism. Stress reduction is one approach that works in some cases. When it's not enough, a custom made occlusal guard (also called a night guard or mouthguard) provided by our office can make a big difference. "When I don't sleep with it for a night," Raonic said "I can feel my jaw muscles just tense up the next day. I don't sense myself grinding but I can sort of feel that difference the next day."
 An occlusal guard is made from an exact model of your own mouth. It helps to keep your teeth in better alignment and prevent them from coming into contact, so they can't damage each other. It also protects your jaw joints from being stressed by excessive force. Plus, it's secure and comfortable to wear. "I wear it all the time other than when I'm eating, so I got used to it pretty quickly," said Raonic.
Teeth grinding can be a big problem — whether you put on your game face on the court… or at home. If you would like more information about bruxism, contact us or schedule an appointment for a consultation. You can learn more in the Dear Doctor magazine articles "Stress & Tooth Habits" and "When Children Grind Their Teeth."