My Blog
Posts for tag: dental implants
By Dr. Edward Portnoy and Dr. Grace D'oria
January 18, 2019
People have depended on dentures for generations—and they still do. That's because they work, both in restoring dental function and a smile marred by missing teeth.
But they have one major drawback related to bone health. That's because living bone has a life cycle: as older cells die, new ones form to take their place. The pressure generated when we chew stimulates this growth. But when this stimulus goes missing along with the teeth, the cell replacement rate slows and bone volume and density gradually diminishes.
Traditional dentures can't transmit this chewing pressure stimulus. And because they rest directly on the gum ridges, they can adversely affect the underlying bone and actually accelerate bone loss.
But implant technology potentially solves this bone loss problem with dentures by using implants rather than the gums to support them. It's a two-fold benefit: first, the implants relieve much of the irritation to the gums and bone caused by traditional dentures. Primarily, though, the implants themselves can slow or even stop continuing bone loss.
Most implants are made of titanium, not only because it's compatible with the body, but also because it has an affinity with bone. Over time bone cells grow on the titanium post imbedded in the jawbone. This process not only creates stability and durability, it can improve bone health.
In recent years dentists have incorporated implants with dentures to create two exciting treatment options. With one option, the dentist installs two or more implants in the jaw, to which a specially fitted removable denture can be attached. You would still have the ease of removing the denture for cleaning, while gaining greater stability and a reduced risk of bone loss.
The other option is a fixed denture (or bridge) attached permanently to implants. For this option, a patient's jawbone must be adequate and healthy enough to support at least four to six implants. A fixed denture is also often costlier and more complex than a removable denture, but it can feel more like real teeth. It also promotes better bone health too.
Although both options are more expensive than traditional dentures, they can pay dividends for long-term dental health. Implants could help you enjoy your new dentures and resulting smile for a long time to come.
If you would like more information on dental implant-supported restorations, please contact us or schedule an appointment for a consultation. You can also learn more about this topic by reading the Dear Doctor magazine article "Overdentures & Fixed Dentures."
By Dr. Edward Portnoy and Dr. Grace D'oria
October 30, 2018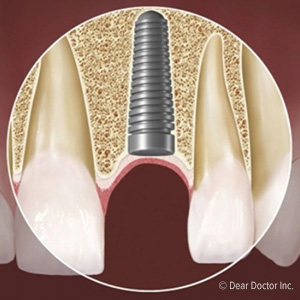 One of the best and most successful tooth replacement choices available is the dental implant. No other restorative method is as similar in both form and function to a real tooth as an implant; and with a success rate of 95-plus percent after ten years, it's one of the most durable.
But there can be extenuating circumstances that make obtaining an implant difficult or sometimes impossible. One possible problematic situation is the systemic disease diabetes.
Diabetes is a hormonal condition in which the body is unable to sufficiently regulate the amount of glucose (a basic sugar that provides energy to the body's cells) within the blood stream. Normally, the pancreas produces the hormone insulin to reduce excess glucose. But diabetes interferes with this insulin production: if you have Type 1 diabetes, the pancreas has stopped producing insulin altogether; if you have the more common Type 2, the body doesn't produce adequate insulin or it doesn't respond sufficiently to the insulin produced.
Over time diabetes can affect other areas of health, especially wound healing. Because the condition gradually causes blood vessels to narrow and stiffen, the normal inflammatory response to disease or trauma can become prolonged. This in turn slows the rate of wound healing.
Slow wound healing can have a bearing on the recovery period just after implant surgery, especially the necessary integration process that takes place between the bone and the titanium metal implant that provides its signature strength. If that process is impeded by slow wound healing caused by diabetes, the risk increases dramatically for implant failure.
That's the worst case scenario if you have diabetes, but only if your condition is out of control. If, however, you have your blood sugar levels well regulated through medication, diet and exercise, then your chances for implant success could easily be on par with someone without diabetes.
So if you're diabetic and are considering dental implants for missing teeth, it's important to discuss the possibility of obtaining them with both your dentist and the physician caring for your diabetes. With your overall healthcare team working together, there's no reason why diabetes should stop you from enjoying this premiere restoration for missing teeth.
If you would like more information on obtaining dental implants, please contact us or schedule an appointment for a consultation. You can also learn more about this topic by reading the Dear Doctor magazine article "Dental Implants & Diabetes."
By Dr. Edward Portnoy and Dr. Grace D'oria
June 21, 2018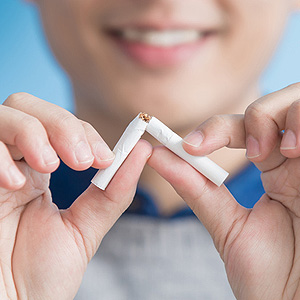 If you smoke, you know better than anyone how a hard a habit it is to kick. If you want to quit, it helps to have a motivating reason—like lowering your risk for cancer, cardiovascular disease or similar conditions.
Here's another reason for quitting tobacco: it could be making your teeth and gums less healthy. And, if you're facing a restoration like dental implants, smoking can make that process harder or even increase the risk of failure.
So, to give your willpower some needed pep talk material, here are 3 reasons why smoking doesn't mix with dental implants.
Inhaled smoke damages mouth tissues. Though you may not realize it, the smoke from your cigarette or cigar is hot enough to burn the top layer of skin cells in your mouth, which then thickens them. This could affect your salivary glands causing them to produce less saliva, which in turn could set off a chain of events that increases your risk of tooth decay or periodontal (gum) disease. The end result might be bone loss, which could make installing dental implants difficult if not impossible.
Nicotine restricts healthy blood flow. Nicotine, the chemical tobacco users crave, can restrict blood flow in the tiny vessels that course through the mouth membranes and gums. With less blood flow, these tissues may not receive enough antibodies to fight infection and fully facilitate healing, which could interfere with the integration of bone and implants that create their durable hold. Slower healing, as well as the increased chances of infection, could interrupt this integration process.
Smoking contributes to other diseases that impact oral health. Smoking's direct effect on the mouth isn't the only impact it could have on your oral health. As is well known, tobacco use can increase the risk of systemic conditions like cardiovascular and lung disease, and cancer. These conditions may also trigger inflammation—and a number of studies are showing this triggered inflammatory response could also affect your body's ability to fight bacterial infections in the mouth. Less healthy teeth, gums and underlying bone work against your chances of long-term success with implants.
If you would like more information on dental implants, please contact us or schedule an appointment for a consultation. You can also learn more about this topic by reading the Dear Doctor magazine article "Dental Implants & Smoking: What are the Risks?"